DESKTOP LANDSCAPING

Does your computer ever feel too digital?

The background image might as well be poorly scribbled signs on cardboard: "Trees Wanted" and "Will work 4 mtns."

An oxymoron, perhaps, but I'd like an outdoor computer. To pretend that I'm staring into binoculars instead of a search engine. And trick my brain into thinking it's a printed map instead of sans-serif web-optimized fonts.

Until then, add some sweeping color to your digital experience. Here are some Origins landscapes that could 1. Take you to the river, so to speak and 2. Inspire you to clear your desktop! (A feat of thousands). Download the originals for your desktop at the Origins homepage.

If you look really hard, about 50 trees in on the left and 22 trees up…there! That's me. Waving at you.

Get outside,

-KK
Spot on! "Get Outside" is my favorite part. ~CFS
Because it was a wednesday…
As always, any opportunity to get in some outdoors prompts me to hop-to, gear up and bolt out the door like a volunteer fireman haha in this case, it just happened to be a Wednesday and I haven't gotten a chance to get out as much as I've grown accustom  since starting my side gig… SO, I took a little field trip to the Shining Creek Wilderness. An area well visited by us and always a favorite. I hadn't been to this particular trail since around February of last year so it was good to see it again…
Cheers
Get Outside! Campaign pt2…
Getting outside is what's up. I find that if I don't get outside I get all cranky and it's just no fun for anybody :P 
So, since moving to North Carolina in January and having seen what it's like to have such a wonderful network of trails within a 10 mile radius of our apartment, it's since been a campaign of mine to not spend too much time sitting at home on the sofa. I had a few hours this afternoon and with a wild hair of hiking and the looming winter setting in, I felt behoove of me to get one of the last chances at seeing fall in the Blue Ridge Mountains. Unfortunately, the magnificant fall foliage that we'd seen the last time had all but fallen away yet, I was still left with some other scenery not too often appreciated by the part time outdoor tourists of the area, duly named "Leafers". I bore witness to a swift steady crisp and cold wind as I ascended into the mountains. The rustle of leaves, the wreaking and creaking of the tall, leafless timbers all around me. And with the less than desirable weather I had this section of trail all to myself. At one point, a soft flurry started to fall as I gained elevation, revealing one higher ridge half covered in white. The other side, in an almost exact one half split thoroughly thawed in the warm sun to the west. It was beautiful. I'd already passed a boulder overhanging the hillside just off of the trail and I decided to take a pit stop and got a fire going to warm up, relax, enjoy the view and the crisp air, and the favorable location of which I make my residence.
Cheers
My temporary shelter…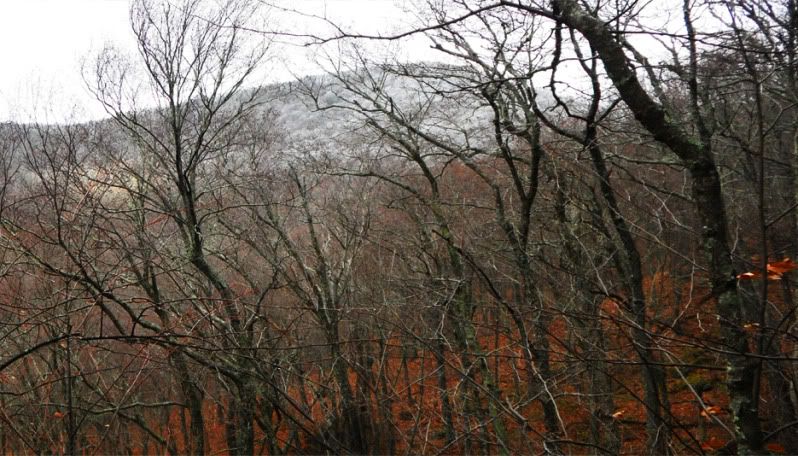 My view. 
Get Outside! Campaign pt1…
As an avid outdoorsman, I feel it behoove of me to share the power and pleasure of the outdoors with any and all I know. I find great enjoyment from taking friends and family out on some of the wonderful trails I've been so lucky to experience. One such instance was just over the passed weekend while my kid sister and best friend were visiting. It isn't too often that they get an opportunity to behold the impressive mountain landscapes that North Carolina has to offer in such close proximity to our place here in Asheville. As such, it was a perfect chance to have a really fun day of hiking!
I took them to the Graveyard Fields area of the Blue Ridge Mountains. So selected for it's relative ease to the not so common hiker, allowing for pristine views accompanied by beautiful alpine terrain with majestic outlooks of the far reaching ranges. I sat back and observed with joy at their gazing wonder of the vast and distant ridges, each one vanishing just a bit more than the last into the horizon. The quite awe we all felt and the understanding that then, by firsthand account, that pictures just do not offer due justice to their awesomeness. I thought to myself "does it get any better than this guys?" Asking on several occasions to a stir of enthusiastic replies. To me, THIS is what we come out here for. THIS is the reaction to embrace. This is the diminutive and respectful power nature has over us. THIS, is what I hope to be the contagion of others to continue feeding from as they go back to their prospective lives and that they too take time to venture out and find similar fulfillment and joy for themselves and share with others.
Brad, CariAnn and Steph looking South from a pluton near Chestnut Bald